Production-ready

Kubernetes, in seconds

Managed Kubernetes built for speed and simplicity. From just $5 a month
Launch a cluster in under 90 seconds

Free control plane

Simplified, predictable billing
Sign up and get $250 free credit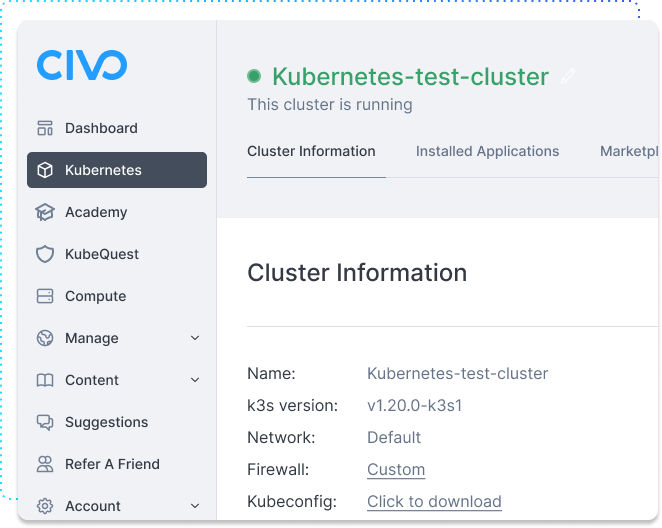 Increase the productivity

of your development teams

Civo Kubernetes significantly reduces complexity, making it easy to build and manage your applications
Incredible launch times
Production-ready clusters up and running in under 90 seconds, so you can spend more time building cool stuff and less time waiting around.
Flexible automation tools
Choose your preferred way of managing your clusters, using your favourite tools like Terraform and Pulumi, or our simple to use CLI or API.
Developer-focused apps
Quickly deploy popular apps directly to your clusters. Choose from 80+ apps including databases, CI/CD, monitoring, security and more.
High availability as standard
We make managing Kubernetes easier. We handle the control plane to ensure you have highly available clusters you can rely on at all times.
Multi-region support
Choose from our ever growing list of locations in Europe and the US. With Asia soon to follow, and more to be announced in 2022.
Simple node management
Quickly and easily resize your Kubernetes clusters so that you can increase or decrease the amount of nodes as and when your business needs.
See how much you can save with Civo Kubernetes
Civo Kubernetes provides all of the core components of the control plane for free, ensuring your cluster's API and management is always available.
We charge only for the resources used by Kubernetes worker nodes and any additional paid addons like Persistent Volumes or Managed Databases.
See how much you can save with Civo versus other cloud providers*
Based on an equivalent size 3-node cluster with 200GB Persistent Volume and 5TB data transfer. Prices are per month
Civo Kubernetes g4s.kube.large
Compute:

$480.00

Storage:

$20.00

Control plane:

Free

Data transfer:

Included
Amazon (EKS) t4g.2xlarge
Compute:

$588.66

Storage:

$20.00

Control plane:

$73.00

Data transfer:

$460.80

Google GKE e2-standard-8
Compute:

$587.01

Storage:

$24.00

Control plane:

$71.60

Data transfer:

$425.00
Microsoft (AKS) d8 v5
Compute:

$840.96

Storage:

$38.02

Control plane:

Free

Data transfer:

$399.60
* Prices are correct as of 24th January 2022. Free tiers or offers are excluded from this comparison. Data transfer refers to egress data charges..
Learn more about Civo Pricing
Application marketplace
Make building complex software packages easy, by using our ever-growing list of one-click marketplace applications
---
Kubernetes
in seconds
Powered by our custom-built CivoStack platform, you can get a production-ready Kubernetes environment up and running in under 90 seconds.
---
Manage your clusters with ease
Get full control over your Kubernetes environment with our APi and CLI, or use our custom-built control panel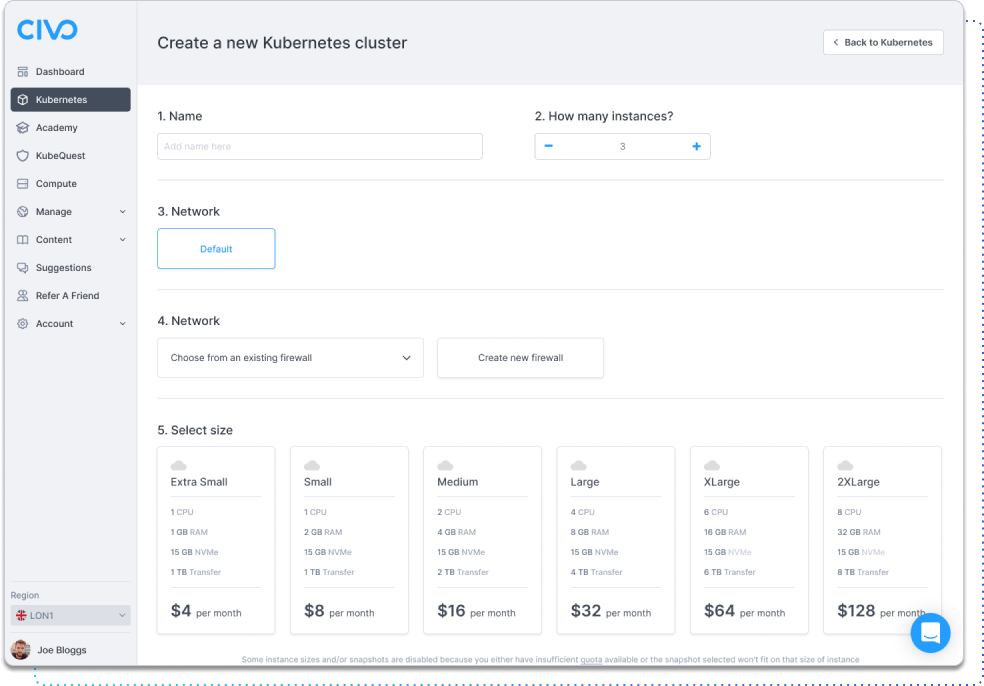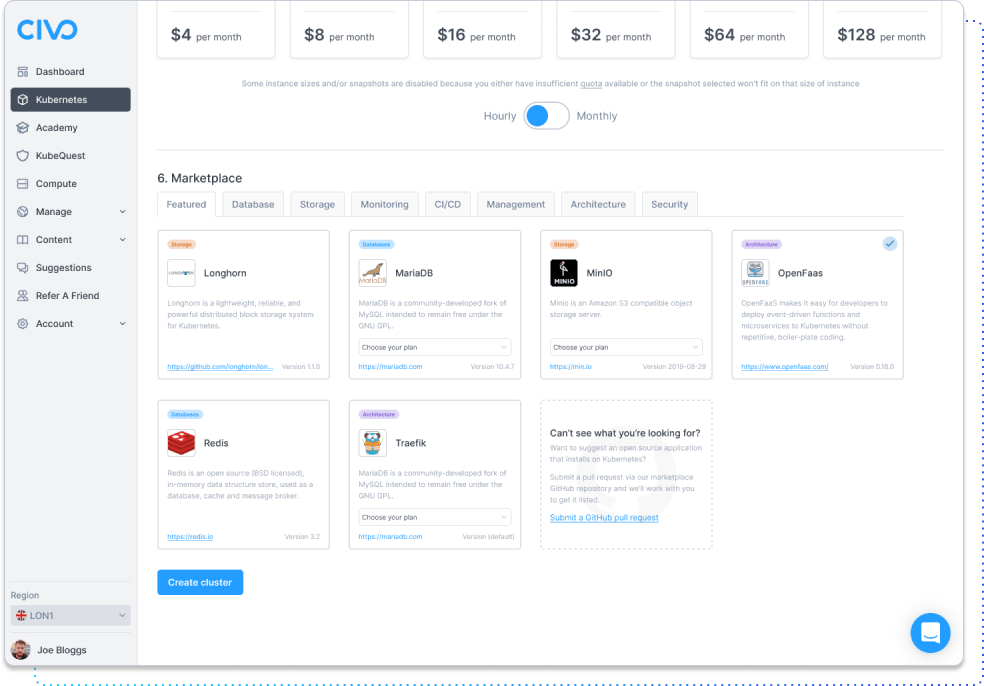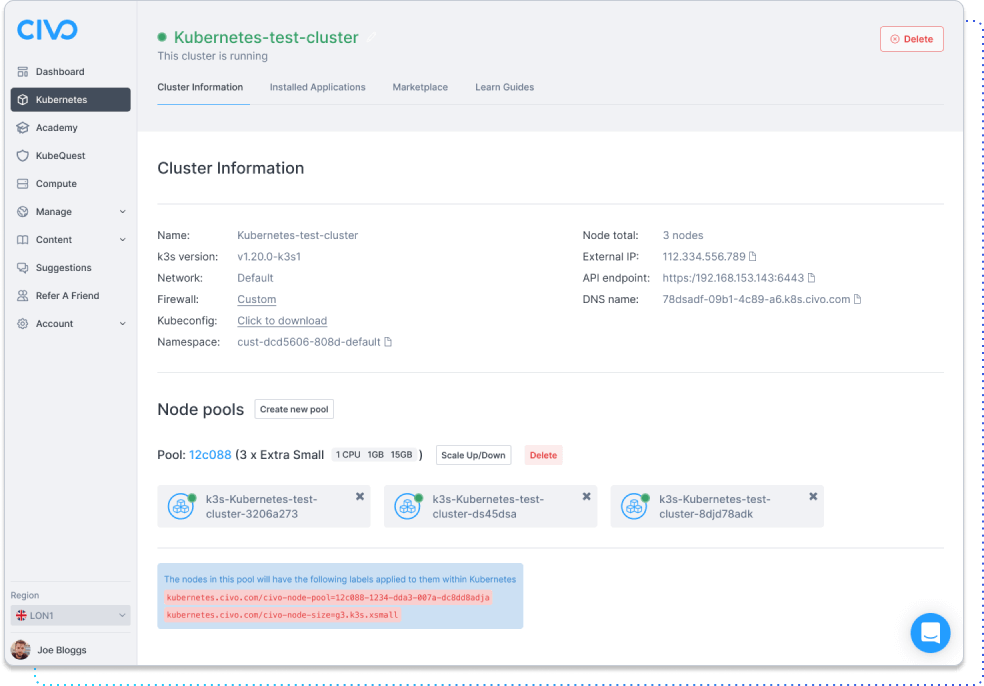 Why Civo is the
"most cost-efficient choice"
Find out how Marino and the Solo.io team make the most out of Civo Kubernetes with it's blazing fast speed for all their development and testing needs.
View more testimonials