Carbon neutral

GPU-powered

compute

Climate-friendly cloud compute solution with all the power of NVIDIA GPUs.
A truly green, sustainable GPU solution

Cost-effective, carbon neural compute

Helping build a more sustainable future for the cloud

Powered by gold-standard NVIDIA A100 GPUs
How Civo and Deep Green do compute differently
Sustainable cloud solution
With 100% renewable energy, run your applications on Deep Green's carbon neutral data center, with heat generated from your compute workloads used to generate hot water for communities across the UK.
Exclusive cloud partner
Civo is the exclusive cloud partner of Deep Green, providing our users with the unique opportunity to run their cloud workloads on Deep Green's state of the art GPU-powered servers.
Zero carbon heat
Deep Green captures 90% of the heat generated by servers and repurposes it for community-based projects. This not only reduces your organization's carbon footprint but also contributes to a sustainable future.
Competitive pricing
We believe that sustainability shouldn't come at a premium. That's why we've maintained consistent pricing across all our regions, encouraging more businesses to make the green switch.
Maximize energy efficiency with our waste heat utilization feature
In partnership with Deep Green, we harness data center waste heat for dual use - powering our cloud services and supporting community projects, aligning with IEA's carbon reduction guidelines.
---
How does it work?
Our Deep Green region running our custom-built stack operates on zero-carbon electricity and can channel the waste heat to heat swimming pools and other facilities. This process enables 90% of the energy to be reused, essentially doubling the effectiveness of each kilowatt-hour (kWh) consumed 1.
Find more information on how

Deep Green works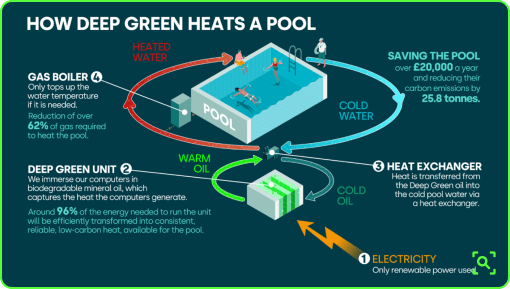 Why is it important to us?
We all have a responsibility to reduce our carbon footprint. This partnership is just one way we're looking to reduce our emissions and move towards a climate-positive future.
---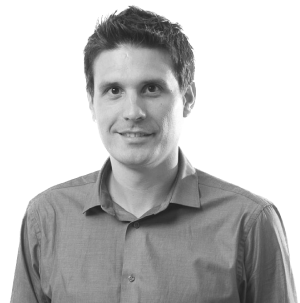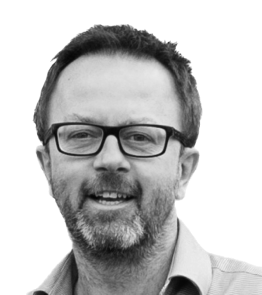 For too long, compute infrastructure has contributed to the problem of climate change. Now it can be part of the solution.
---
Mark Bjornsgaard
Founder, Deep Green