Powerful

and reliable compute instances

High performance virtual machines delivered super-fast
Increase productivity

and reduce cost

Civo simplifies building and managing your applications
Super-fast launch times
Launch an instance in under 60 seconds, enabling you to focus more time on building applications and less time waiting around.
DDoS protection as standard
Safeguard your applications and network with our DDoS protection with advanced machine learning. With more than a terabit of capacity to protect.
Multi-region support
Choose from our ever-growing list of locations such as New York, London and Frankfurt. With many more to be announced soon.
Bandwidth pooling
Use your total bandwidth allowance spread across your entire cloud and only pay for the bandwidth you actually use.
Flexible automation tools
Choose your preferred way of managing your instances, using your favourite tools like Terraform and Pulumi, or our simple to use CLI or API.
Load balancers
Direct and spread traffic across multiple instances so your applications are always available during busy periods.
Virtual Machines, but with Kubernetes under-the-hood
At Civo we do things a little differently. We're a cloud native first provider which means we even use Kubernetes to power our compute instances. For our users the end result is the same, you get powerful virtual machines which behave just like a regular IaaS offering from any other cloud provider.
Incredible speed

to streamline your development lifecycle

Spend your time coding – not waiting around for your instance to build. Choose an instance size, hourly or monthly billing, an OS, and get up and running fast.
Compute instances with an elegant UI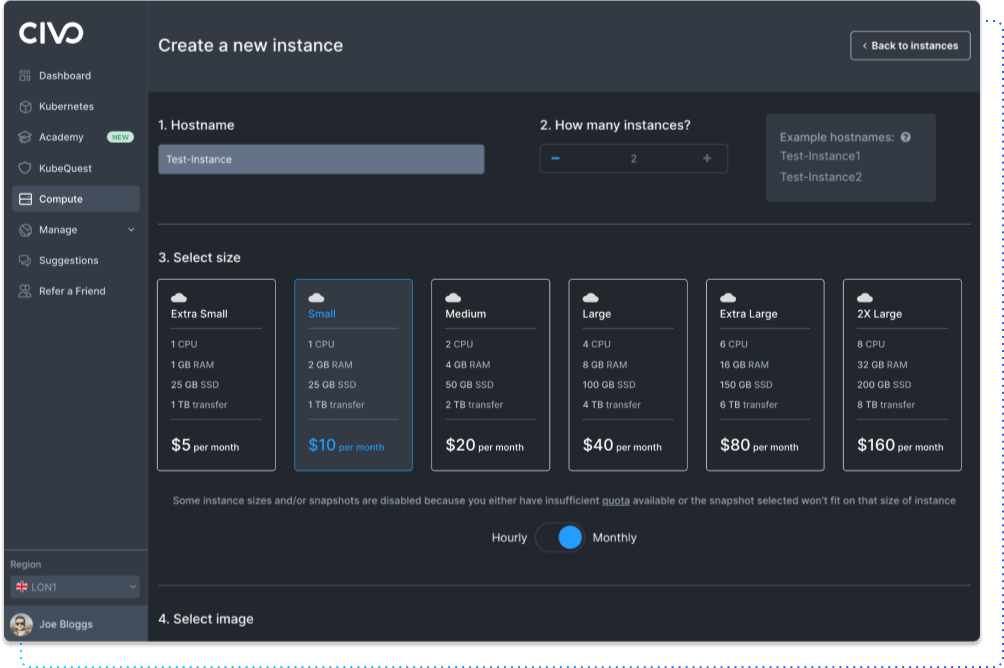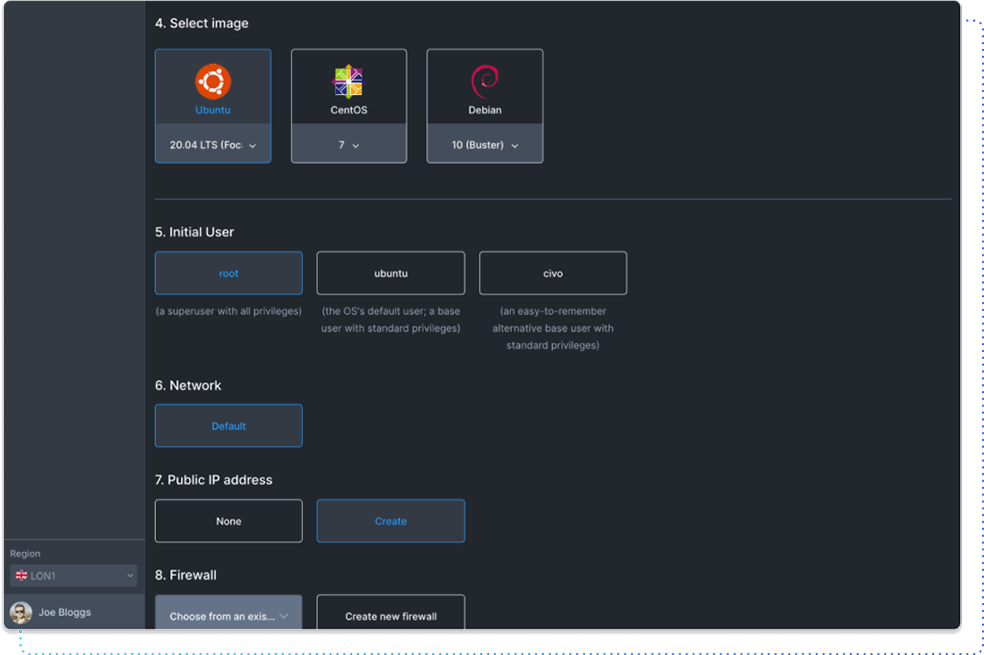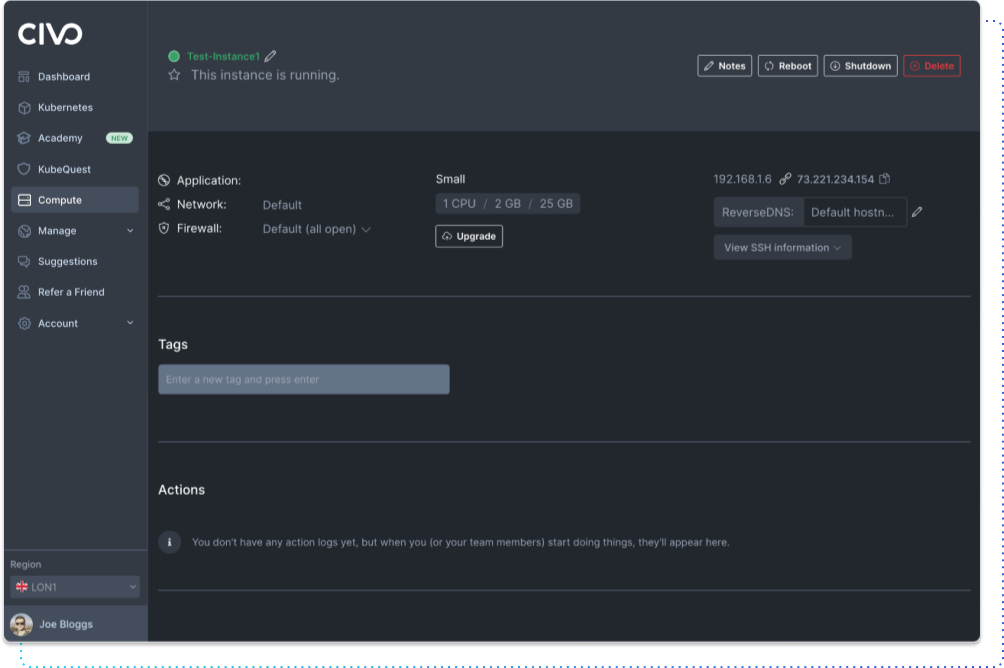 Increase developer productivity with Civo
Your favourite automation tools
Manage Civo resources your way, with our REST API, CLI, or declaratively with Infrastructure as Code tools including the Pulumi and the Civo Terraform provider.
CI/CD
Confidently push your code to production faster, speed up release cycles, and avoid deployment-time outages. Use Github and Gitlab actions to better manage your development cycle.
Support when you need it
Get support from some of the best minds in the cloud native scene, along with access to our 5000+ developer slack community to share ideas and get the most out of your cloud services.
Civo has been a great fit for us and makes light work of the 71 million ElasticSearch logs we process every day. We needed a solution that can scale up and down as our clientbase demands and this is easy with Civo's superfast cluster launches and easy-to use CLI.
Oliver Pinson-Roxburgh
CEO, Bulletproof & Defense.com
I love how simple Civo is when it comes to billing. I always know exactly, right now, what the cost of my clusters will be at the end of the month. This makes it easy to stay within budget for the business. The transparency of billing is, for me, the killer feature of Civo.
Jürgen Etzlstorfer
Keptn maintainer, Dynatrace
Civo is incredibly fast, it takes a minute or two to spin up a Kubernetes cluster - that's up to five times faster than other providers such as Google Cloud and AWS. This really helps us at Okteto with testing and iteration to identify any issues quickly.
Ramiro Berrelleza
Founder and CEO, Okteto