The Cost
of Cloud
A Civo white paper looking into the complexity of cloud costs
for businesses and alternatives beyond the hyperscalers.
Why economies of scale no longer apply
Our research highlights the degree to which hyperscalers are overpromising and underdelivering. We spoke to 1,000 cloud developers about the management of their cloud services, and the degree of costs associated with it.
We found clear disquiet amongst developers on the value offered by hyperscalers:
Of the businesses surveyed, 82% think the big three hyperscalers should reduce their charges.
81% said that hyperscalers try to give the impression they are low cost.
68% of all respondents went a step further and believe the perception that cloud is cheaper is misleading.
Developers are clearly not satisfied with the status quo offered by hyperscalers. Despite the promises of leadership, choosing AWS or Azure does not lead to a drop in costs.

As businesses scale and increase their monthly cloud spend, hyperscaler price hikes only compound matters.
When we look deeper at these rising costs, it emerges that enterprise firms are particularly badly affected by this trend. On average, enterprise respondents (1,000+ employees) say their organization is spending $49,600 a month on their cloud deployments..
COVID-19 has created huge appetite for cloud services, prompting many businesses to rapidly launch cloud-native deployments to meet demand. Indeed, Gartner estimates that 51% of Enterprise IT Spending in Key Market Segments will shift to the cloud by 2025. Long-term, firms will need to reassess their provider to keep the costs of operating in this cloud-native world under control.
Failure to do so risks costs spiralling further: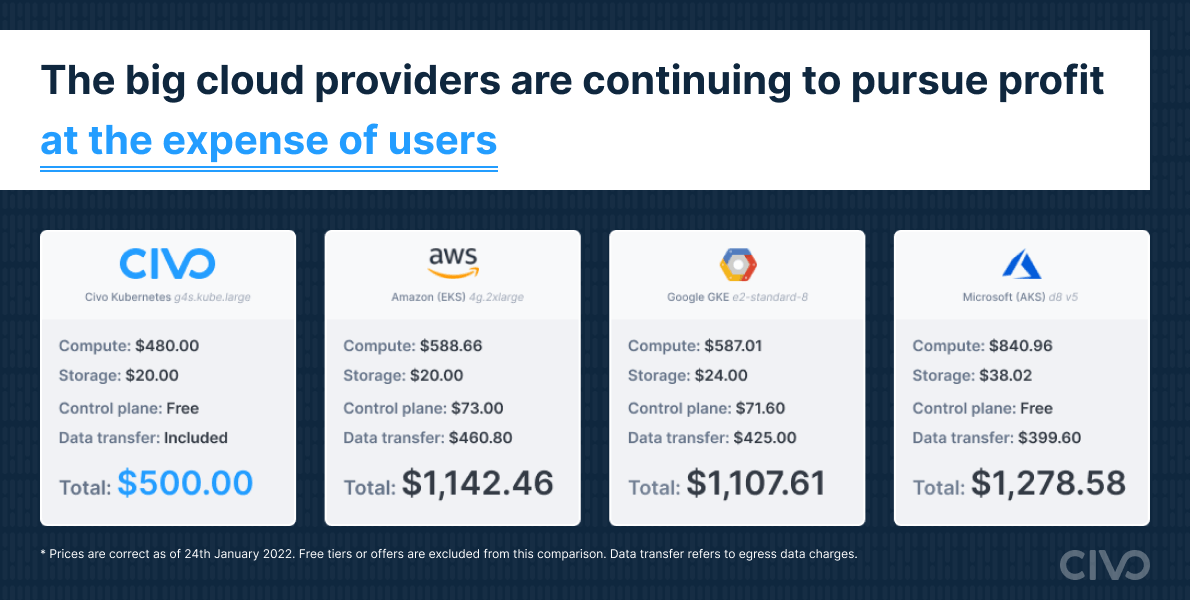 Our research found over three-quarters of enterprise respondents (76%) report increased cloud costs, and the average increase in the past year is 93% (compared to 48% for SMB)
Every time we read bumper earnings from the hyperscalers, we should remember that they mask an uncomfortable truth: the big cloud providers are continuing to pursue profit at the expense of their users. Rather than pursuing fair and predictable pricing, AWS, Azure and Google Cloud have focused on ensuring consistently high profits for their shareholders.
This direction of travel has ensured that customer interests have taken a backseat; in March 2022 Google Cloud announced a raft of price increases for users, including a rise for multi-region nearline storage prices for all regions from October 2022.
Notes
Google Cloud's fourth-quarter revenue rose 45 percent to $5.5 billion from the same period last year - with Google Cloud Platform (GCP) revenue outpacing that growth — as parent company Alphabet's overall performance easily beat Wall Street expectations.
Microsoft's cloud business continued to rain money for the software giant during its fiscal 2022 second quarter, with cloud revenue up 32% year-over-year to $22.1 billion. Intelligent Cloud, which includes Microsoft Azure, reported revenue of $18.3 billion, up 26% year-over-year.
In its Q4 2021 results, AWS achieved a 40% revenue growth year-on-year, with revenue totalling $17.78 billion and operating margin of 29.8%. For the full year 2021, AWS recorded operating income of $24.9 billion