The Kubernetes
State of Play
A Civo white paper into the challenges and
opportunities of Kubernetes in 2021
How is containerization being used?
Even in the relatively short lifespan of Kubernetes so far, IT infrastructure has evolved dramatically. We have witnessed cloud become the backbone of modern IT, providing the capacity for businesses to rapidly run workloads with a flexibility and scale many firms would struggle to achieve with on-premises infrastructure.
The COVID-19 pandemic accelerated this process to an unprecedented degree. According to Flexera's 2021 State of the Cloud Report[1], 90% firms saw their cloud usage slightly or significantly increase during the pandemic.
This leaves many businesses pursuing a hybrid infrastructure strategy, with workloads spread across cloud, private data centres, and on-premises locations.
During the survey of our 1,000 strong IT professional community, we found the largest proportion, 44%, are hosting services in the public cloud, while a third use on premise solutions and 22% rely on outside data centres.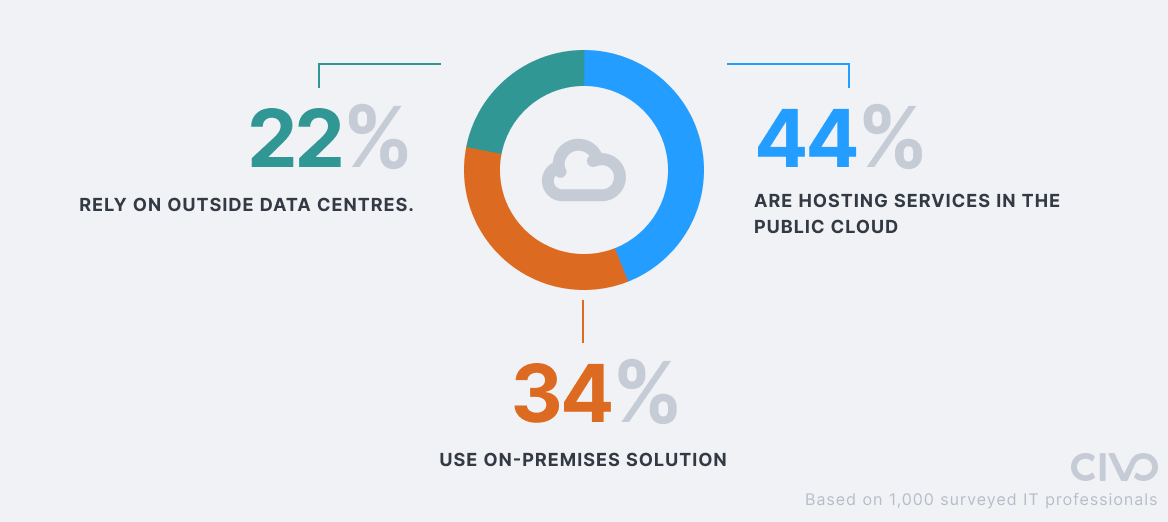 Respondents were also asked what other equipment and software they use to handle workloads. 38% professionals are still running services through more traditional bare-metal servers. However, more firms seem to be embracing virtualization strategies to run their services in a more efficient manner. 80% of respondents said they are running virtual servers, to allow apps to share the same server securely.
A growing segment of the industry is going a step further. Almost half of respondents (49%) are currently using containers and/or Kubernetes in their operations.Nearly half of those using containers are deploying the technology for either development and testing or production, while over half (54%) use it for both.
Research from the Cloud Native Computing Foundations (CNCF) supports our findings. In 2016, when the organization first started surveying developers, just 23% were using containerization in production. This proportion leaped to 92% by 2020.[2]
This appetite to spread containerization from testing deployments into service production means that over a third (36%) of organizations are using the technology for more than half of their workload. Initial interest is clearly giving away to containers being firmly bedded into the long-term planning of firms. Indeed, almost two-thirds (63%) of respondents using containers have been using them for more than a year.